Council told to revive cultural centre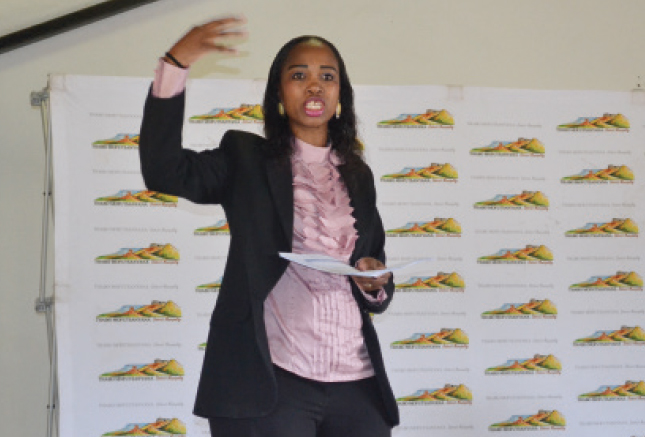 Consulting the people … Thabo Mofutsanyana integrated development planning manager Thoko Vanqa addresses residents at Rosendal
Residents use budget talk to demand centre back
Residents of Rosendal – a small farming town and arts colony in eastern Free State – have appealed to district authorities in Thabo Mofutsanyana District Municipality to revive the Mautsendal Cultural Village where they used to generate income by selling their wares to tourists visiting the area.
The residents who say they have been thrust into abject poverty following the closure of the centre say besides providing them with a platform to sell their crafts, the cultural village also employed many people from around the town.
Mabele Makholokoe, 59, told a meeting held on Tuesday to discuss the municipal budget for the 2015/16 financial year that the closing of the centre was a major loss to the community as many people had been left without a means of income.
"When the Mautsendal cultural village was still operating we used to generate income from tourists who bought our crafts," said Mabele Makholokoe. The meeting was held at Mautse Community Hall.
Some of the residents, according to Makholokoe, were employed at the village when it was fully operational.
Today, most of the residents in the town, which is about 213km east of Bloemfontein, are unemployed, while others depend on seasonal work in the surrounding farms. During the winter season they are hired for harvesting while in summer they plough the fields and plant crops.
The monthly social grants they receive from government are their only guaranteed source of income.
The small town is popular for its beautiful scenery which attracts tourists from across the world all year round.
The residents also want the district municipality to assist them with training in farming so that they could utilise their land to generate income.
Teboho Matheka, 63, suggested that government buy surrounding farms and distribute them to the people.
"Government should buy the farms around here and give us funding and training so that we are able to utilise this land profitably. We can rear cattle and grow crops here because there is enough land," said Matheka.
Thabo Mofutsanyana District Municipality member of the mayoral committee responsible for integrated development planning Shashape Motaung said the purpose of the engagement with community was to present a draft budget to the community so that their views and needs could be taken into account before coming up with the final budget.
"We are here to engage with you before our budget is finalised so that your views can be incorporated into our budget for 2015/2016. Your input might even change the draft budget."
The draft budget presently stands at about R102.6 million. Thabo Mofutsanyana has six local municipalities namely, Maluti a Phofung , Nketoana, Dihlabeng, Setsoto , Mantsopa and Phumelela .
The district municipality will also hold meetings in Maluti a Phofung at the Tsheseng Tribal Offices and Phumelela at Warden Town Hall today, Mantsopa at Hobhouse Community Call on May 19 and Nketoana Mamafubedu Community Hall on May 20 to discuss the draft budget.